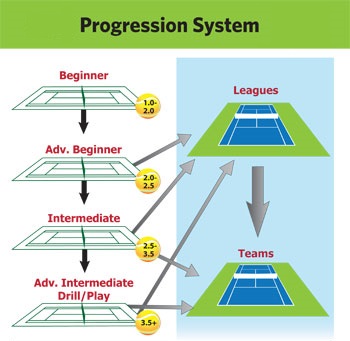 Video1: 14 secs

Serve, forehand approach, backhand volley, overhead smash, done.
Overview:
Great job of controlling the flow of the match, hitting with purpose and split stepping between hits.
Recommendation / Mental note:
1. First move into court needs to be forward movement, not back then forward.

2. Hit approach shot on the rise, not as it's dropping.
3. "Stick" the volley. Not guide the volley - that's a coaching volley :)
Self analysis of playing and practice routines.
Video2: 23 secs

Serve, defend cross court, forehand, backhand, running forehand cross court, done.
Overview:
Good job of defending, attacking and neutral hitting.
Recommendation / Mental note:
1. Zone 3 forehand should be hit with front foot forward, not open stance.

2. Good backhand. Find the middle of the strings next time.
3. Strengthen legs. Struggled a bit on forehand out wide recovery.
Video3: 6:06 mins

Coach Albert hitting forehand and backhands against wall. Wall wins!

Overview:
189 ground strokes

106 forehands

83 backhands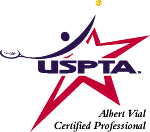 Albert Vial, USPTA Certifed Tennis Professional

​Since 1990, I have been a coach, mentor and friend to players of all ages and abilities wanting to take their tennis game to the next level.
I have helped many kids and adults through positive coaching, love and enthusiasm of the game to build self-confidence, culture a foundation of good sportsmanship and the value of effort, all while having fun!​
Whether it be to learn the fundamentals of the game or a winning on-court strategy let's work together to resolve all your athletic goals by ​playing smarter not harder.
- Coach Albert​​
Credentials
Coaching and Mentoring, 1990 - current
Certified Tennis Professional by USPTA
QuickStart Certified​ by USTA,
United States Tennis Association, USTA
Wilson Advisory Staff
International Coaches Institute, Level 1 and Level 2 (Spanish training system)

Licensed Cardio Tennis Professional L1 by Tennis Industry Association

Academy Head Pro at local tennis academy since 2009-2013
Teaching Pro at the Peninsula Tennis Club under local tennis academy since 1999-2013
Senior varsity high school player, Hillsdale High School (1988)
Men's USTA 4.5 singles tournament player (1992 - 1995)
Men's USTA 5.0 singles, league tournament player (1995 - 1998)
Men's Open / ITF future circuit tournament player (1997 - 2001)
Played against Dmitry Tursunov, current ATP player, at $50,000 Safeway Challenger (1998)
Men's USTA 5.5 league player (2003)
Men's USTA 5.0 league player (2010)
Player Development Pathway
 Teaching Style: the all-court-player
1. Juniors: (5-18 years)
Quickstart - U10 - Middle School - High School
a. Tournament Juniors
Novice-Challenger-Open​​
2. Adults (NTRP Rating) ​
Singles and Doubles ​
Women (1.0-4.5)
Men (1.0-4.5)
My Philosophy
 To achieve my missions, I use positive coaching, high-energy, fun and laughter to build and nurture self-confidence and self-esteem in students. The following life skills are always taught:​​​​
SPORTSMANSHIP
TEAMWORK
DISCIPLINE
RESPECT
INTEGRITY​​
​​​​My goal is to produce a generation of players who love tennis, have confidence, and respect others throughout life.
My Mission

​​My missions, for students all of ages and ability, are to:
​1. Have F U N !
2. Develop the best tennis player that you can be.
3. Respect and love the sport, for a lifetime.